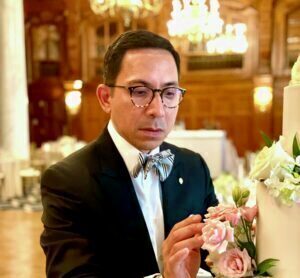 Michael Deltette at Willard InterContinental Washington,D.C.
Willard InterContinental Washington, D.C. proudly announces the appointment of
Michael Deltette
as director of social events for the 335-room hotel located at 1401 Pennsylvania Avenue NW in Washington, D.C. Deltette will spearhead the
social events
for this historic luxury hotel featuring 22,000 square feet of
iconic event space and three unique ballrooms
.
Michael brings more than 20 years of catering, event management, and hospitality experience within the top luxury and lifestyle hotels in Washington, D.C. Named the Style Guru (
Engaged! Magazine
), Washingtonian Style Setter (
Washingtonian Magazine
), The Party Guru (
Washington Weddings
), this most celebrated wedding professional will oversee
weddings
, bar and bat mitzvahs, and other high-end social events.
Deltette joins Willard InterContinental Washington, D.C. after serving as a director of guest experience and quality assurance, as well as a director of catering sales and events management for one of the prominent luxury hotels in Washington, D.C.
Michael was born and raised in the Philippines, where he received a master's in psychology and management and later went back to school to pursue his passion of becoming a chef. Deltette then assisted in the development and opening of his family's multi-cuisine restaurant. Michael's travels led him to New York City, where he attended The Culinary Institute of America, where he learned both back and front of the house operations.
"Willard InterContinental is a perfect setting for extraordinary DC weddings and social events, and I am thrilled to have Michael – the Wedding Guru – back by my side," – said Ernie Arias, director of sales and marketing at Willard InterContinental. "Michael is a celebrated event expert, and we look forward to all the innovation he will bring to our historic landmark hotel."
Michael enjoys painting, cooking and entertaining, traveling, and spending time with his husband, David, and their beagle, Franklin, at their home in upper Washington, D.C.
To learn more about Michael and to book a hotel tour for your
Wedding
, contact Michael at 
michael.deltette@ihg.com
or call +1 202 637 7437